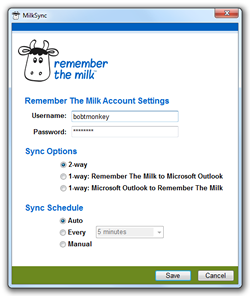 MilkSync synchronizes Remember The Milk with Microsoft Outlook. Key features include:
Two way synchronization (or optionally Remember The Milk to Microsoft Outlook, or vice versa).
Scheduled synchronization (e.g., automatically sync every 15 minutes).
Include all lists or specific lists from Remember The Milk when syncing.
Easy access to sync via a Windows System Tray icon.
MilkSync is compatible with 32-bit and 64-bit editions of Microsoft Outlook 2003, 2007, 2010, 2013, and 2016 on Windows XP (SP2 and higher), Windows Vista, Windows 7, Windows 8, and Windows 10.